Acting President receives RoK Prime Minister
|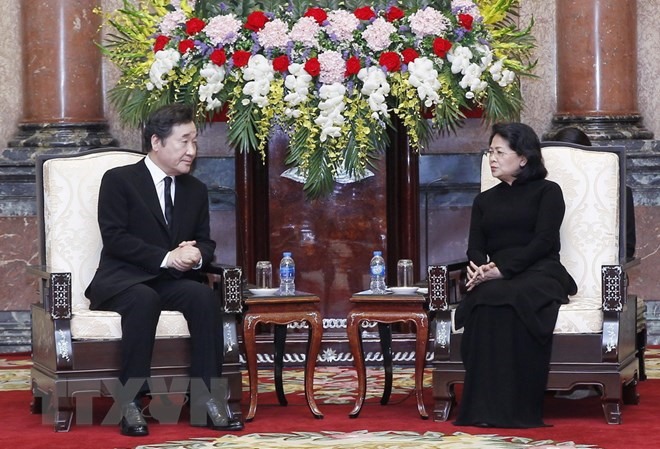 | | Acting President Đặng Thị Ngọc Thịnh (right) receives Prime Minister of the Republic of Korea (RoK) Lee Nak-yeon in Hà Nội on Wednesday. — VNA/VSN Photo Lâm Khánh |
HÀ NỘI – Việt Nam and the RoK needed to continue stepping up connections between their ministries, agencies and localities, with a view to lifting two-way trade to US$100 billion by 2020, said Acting President Đặng Thị Ngọc Thịnh during a reception in Hà Nội on Wednesday for Prime Minister of the Republic of Korea (RoK) Lee Nak-yeon.
PM Lee was leading a high-raking delegation from the RoK Government to Việt Nam to pay their respects to President Trần Đại Quang. Their visit showed that the RoK State and Government attached importance to the Việt Nam-RoK strategic co-operative partnership, she said.
The Acting President thanked President Moon Jae-in and his spouse for sending their condolences to the Vietnamese Party, State and people, and the family of President Quang.
The RoK PM extended his deep sympathies to the Vietnamese State and people, and the family of President Quang, affirming that the President had greatly contributed to elevating ties between his country and Việt  Nam.
Noting with pleasure the effective and practical development in various fields of the Việt Nam-RoK strategic co-operative partnership, the Acting President expressed her wish that the RoK would increase its support for Việt Nam in terms of capital and science-technology by continuing to provide development assistance.
The Party, State and people of Việt Nam always treasured and wished to deepen the strategic co-operative partnership with the RoK, in line with the common perception of the two countries' leaders and particularly the Việt Nam-RoK Joint Statement towards the future signed in 2018 during a State visit to Việt Nam by President Jae-in, thus meeting the aspirations of their peoples as well as contributing to maintaining peace, co-operation and development in the region and the world, she said.
Thịnh highlighted the great potential for bilateral co-operation, saying the two sides should continue consolidating political trust, regularly maintain high-level exchanges and create a favourable political environment to foster collaboration in various fields.
For his part, PM Lee said that as the RoK and Việt Nam were enjoying intensive, reliable and continuously developing collaboration in all spheres, the goal of raising two-way trade to $100 billion by 2020 was feasible.
He said his country wished to co-operate with and assist Việt Nam in areas of strength such as science-technology, infrastructure, smart cities, clean energy, human resources, public administration and e-government building.
Expressing his belief that Việt Nam would enjoy rapid economic developments in the future, the PM asserted that his country would accompany Việt Nam on its development path.
PM's reception
During a reception for his RoK counterpart later yesterday, PM Nguyễn Xuân Phúc said the Vietnamese Government and people stand ready to work with the RoK to promote the strategic cooperative partnership in a deeper and more comprehensive manner.
Also, the PM laid stress on the past achievements in bilateral ties, adding that high-level exchanges have been maintained, political trust has been enhanced, and people-to-people exchanges have become an important pillar in the Việt Nam-RoK friendship.
He said that both sides need to channel more efforts to advance relations in various sectors in order to attain their goals. — VNS