Drastic measures needed to boost nation's economic growth
|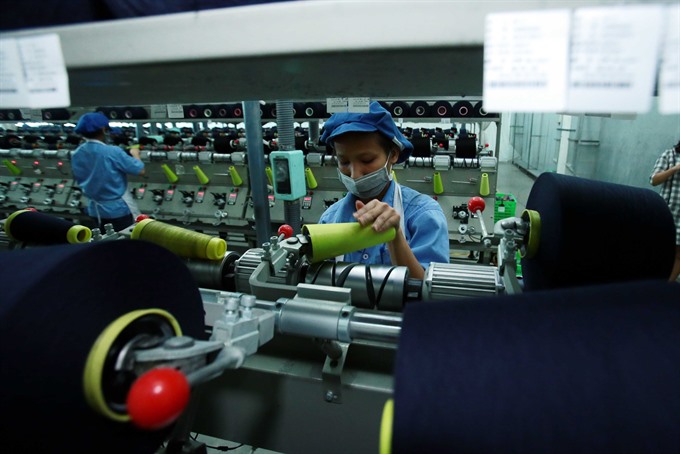 | | Workers at a textile production line of Jasan Vietnam Textile and Dyeing Company in Phố Nối B Industrial Zone in the northern province of Hưng Yên. — VNA/VNS Photo Phạm Kiên |
HÀ NỘI – Prime Minister Nguyễn Xuân Phúc on Thursday asked the Government's Economic Advisory Group to analyse internal and external difficulties to propose mechanisms and policies which will help the country to overcome economic obstacles and ensure sustainable development.
At the meeting with the Cabinet leader, the group reported that the country's growth model has ensured positive development. Labour productivity last year reached approximately 6 per cent, compared to an average level of 4.6 per cent during the 2012-15 period.
The private sector, developing at a faster pace, has increased its contribution to Gross Domestic Product (GDP).
The export turnover of domestic sectors has increased faster than that of the foreign direct investment (FDI) sector. In the first six months of this year, the export turnover of domestic sectors surged by 19.9 per cent, compared with 14.5 per cent for the FDI sector.
However, according to the group's experts, the achievements are humble compared to targets in which by 2020 GDP is set to grow by 7 to 7.5 per cent per year, especially in the context of complicated and unexpected developments of the global economy that may have a negative impact on Việt Nam's economy.
According to the Economic Advisory Group, national labour productivity in the coming years must be increased in order to lay the foundations for higher economic growth in the 2021-25 period. To reach the targets of 6.85 per cent economic growth in 2018-20 and 7 to 7.5 per cent in 2021-25, labour productivity by 2020 must hit 6.3-6.8 per cent.
The group proposed the PM order ministries and sectors to review 37 common obstacles persisting in nine laws and by-law documents that hinder businesses during the preparation process for investment projects.
The PM lauded the advisory group for its consultations over the past year, including reports about pressing economic issues and solutions.
He urged the group to provide advice on development strategies, as well as short-term, mid-term and long-term policies to help the country increase labour productivity.
The group was also asked to study mechanisms to mobilise sources from the community and private sector to remove obstacles facing public-private partnership implementation.
PM Phúc said that over the past two years of implementation, the programme on economic restructuring and building a new growth model has demonstrated positive results.
However, numerous sectors have suffered slow growth and have not achieved their targets.
The Government will take drastic measures on restructuring and reforming the growth model and stabilising the macro-economy, he said.
More timely solutions will be sought to boost the economy's capacity to resist any changes, he said. – VNS