First Vietnamese peacekeepers start journey to war-torn South Sudan
|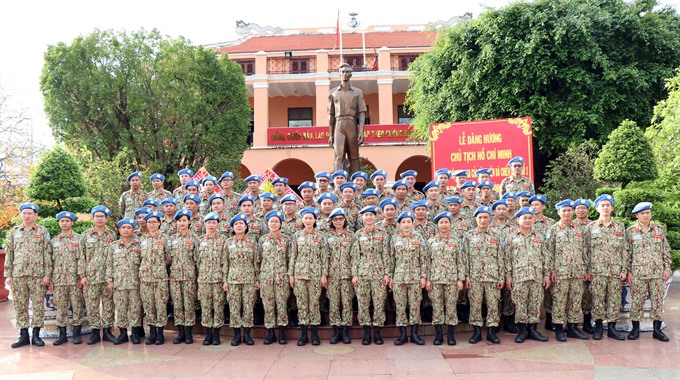 | | Vietnamese medical officers of the field hospital to be deployed in South Sudan thurify for late President Hồ Chí Minh at the Nhà Rồng Port in HCM City before participating in the UN's peacekeeping force. — VNA/VNS Photo Xuân Khu |
HÀ NỘI — Hidden at the bottom of Thư's heavy army backpack was a well-wrapped jar of salt. It was a gift from her mother given the last time the two met, and Thư planned to take it to the war-torn South Sudan where she will be one of the first Vietnamese members of the United Nations' peacekeeping mission.
Lieutenant Huỳnh Cẩm Thư is among a group of 30 military doctors from Field Hospital No 1 who are being sent to the African country today to take over a UN field hospital from the British force. This is the first time ever that Vietnamese doctors willparticipate in UN peacekeeping operations overseas.
The 25-year-old doctor enrolled in the preparation course for the mission last November. Though she was excited in the early days as she was fully absorbed in studying English and building physical stamina while learning survival skills, ThÆ° started getting cold feet as her departure neared.
"I was anxious of leaving my family behind, leaving the life that has been so familiar with me," she said.
Her mother's jar of salt came to ease her mind at the right moment. The salt, which was harvested from Thư's hometown of Hà m Tân in the coastal province of Bình Thuận, brought with it the wishes of a mother to protect her daughter. It was regarded by locals of Hà m Tân as a traditional medicine to cure stomachaches and wounds that the young doctor might suffer as she treats patients amid fierce battles that show little sign of ending soon. They have raged since a civil war broke out in South Sudan in 2013.
"But to me, the special taste of Hà m Tân salt will remind me of my hometown, of my mum and my family," the future UN peacekeeper said.
It was not only ThÆ° who was torn between sacrificing for her country and leaving her family behind.
The only daughter of 31-year-old captain Nguyễn Quang Tường just turned three a few days ago and he was able to hold a small birthday party for her before his year-long departure.
"My mind was always full of thoughts that I have to stay away from my family, my friends and my comrades," he said.
And it was especially hard on him that his family, with all the information that can be easily found on the internet, knew very well how dangerous South Sudan is.
"I've had to explain to my wife and my family that it is the duty of soldiers like us to make an unsafe land become safer. The true responsibility of a peacekeeper is to bring peace to all troubled lands," Tường said.  
Thư, Tường and their colleagues in the first batch of deploying doctors will attend a see-off ceremony at the TânSơnNhấtAirport in HCMCity today, ending more than 1,000 days of hard work to prepare for the new journey ahead in a mysterious and far-away land.
The Ministry of National Defence made the landmark decision on November 25, 2014 to establish a level-II field hospital based at the 175 Military Hospital with 70 permanent staff to realise Việt Nam's ambition to more actively participate in UN peacekeeping missions in the humanitarian field.
|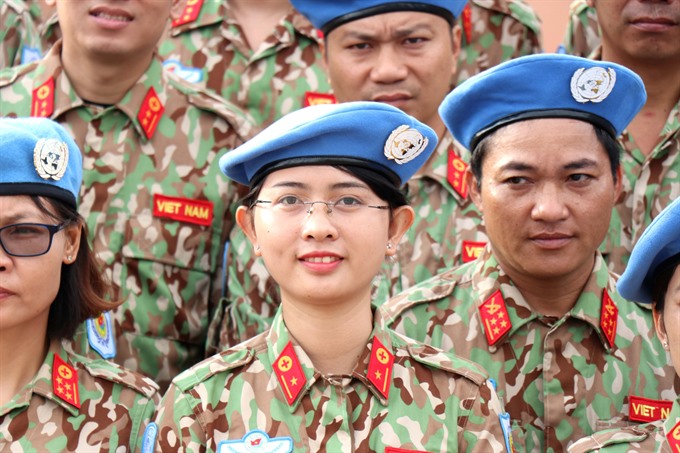 | | Lieutenant Huỳnh Cẩm Thư (centre) is one of 10 female members of the field hospital to be deployed in South Sudan. — VNA/VNS Photo Xuân Khu |
According to UN standards, a level-II field hospital must be able to examine and offer treatment to a maximum of 40 outpatients a day and 20 inpatients within seven days. It should also self-equip sufficient medicines, needles and other supplies needed in any circumstances while being able to provide both land and aviation patient transfers to a medical facility of higher level.
The Vietnamese medical contingent will be in charge of running the UN level-II field hospital in Bentiu to provide medical care to over 1,800 military and civilian UN staff workingin the north of South Sudan.
Operating this kind of field hospital located in a foreign land was no less a challenge to 67 Vietnamese army doctors who had literally no experience before. An intense training course was built for the doctors with lessons on the United Nations peacekeeping mission, survival skills in Africa and how to identify mines and explosives, for example.
Deputy Defence Minister - Senior Lieutenant General Nguyễn Chí Vịnh said that the deployment of the Vietnamese contingent to South Sudan was one of the three most remarkable co-operation successes of Việt Nam and the UN peacekeeping force over the past five years.
Before that, Việt Nam completed its legal framework that paved the way for the country's participation in the UN peacekeeping operations and sent 27 advisory officers to join peacekeeping missions in Africa.
"Bringing Việt Nam's Field Hospital No 1 to South Sudan marks the transition from advisory activities to real actions in Việt Nam's peacekeeping operations. It is also the chance to test the capabilities of our officers in terms of military, international relations and medical fields," Vịnh said.
The participation of 10 female doctors was a highlight of the Vietnamese medical contingent this time, the deputy minister said.
"The rate of female peacekeepers is normally required at only 10 per cent, but we have 10 out of a total 63 officers in the contingent, which stands at around 16 per cent. It shows that Việt Nam not only commits to the peacekeeping activities but also aims to realise the gender equality goal of the UN," he added.
The deployment of the Field Hospital No 1 to Africa, as historic as it was, is just the start of a longer journey.
Vịnh said that soon after the today departure, a Field Hospital No 2 would be set up at the 103 Military Hospital in Hà Nội. The doctors there will receive a full year of training before leaving for South Sudan to replace those from the Field Hospital No 1.
Ex-peacekeeper doctors at that time will work in a new military field hospital to carry out search and rescue and military missions as well as take part in bilateral and multilateral rehearsals in Việt Nam and overseas, Vịnh said.
Việt Nam at the same time was also working on building an engineering contingent as part of the agreement with the UN.
"If everything goes right, we can think about deploying engineer officers in late 2019 or early 2020," he said. — VNS