Future ODA is still needed for Việt Nam
|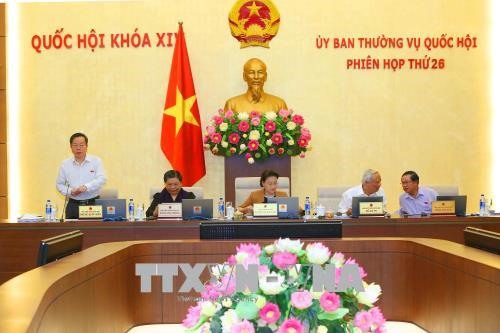 | | NA Standing Committee members said future Official Development Assistance loans are necessary for Việt Nam given its huge demand for investment in development.—VNA/VNS Photo Dương Giang |
HÀ NỘI — Members of the National Assembly Standing Committee yesterday agreed that future Official Development Assistance loans are necessary for Việt Nam to meet its development potential, but they emphasised the need to spend these loans more effectively.
On the second day of this month's meeting, the committee discussed the special monitoring report on the implementation of state policies and laws on the management and spending of official development assistance loans from 2011-16.
According to the monitoring report, 319 agreements were signed in the period 2011-16 with a total value of US$33 trillion, 59 per cent higher than in the 2006-10 period.
Members of the NA Standing Committee said that while Việt Nam's policies have been becoming more effective for the management and spending of ODA loans, shortcomings still exist.
Some members raised the question of whether ODA loans had been spent wastefully or ineffectively and whether the spending of ODA loans had met practical needs.
Phan Thanh Bình, Chairman of the NA Committee for Culture, Education, Youth and Children, suggested stronger supervision from the National Assembly and local People's Councils.
"NA committees should seriously and strictly supervise ODA projects within their responsibilities, and the Government needs to clearly identify individuals or agencies in charge of ODA project supervision," Binh said.
Other members of the committee agreed that in the coming time the Government would have to strengthen inspections and supervision of ODA projects. They also said that for non-refundable ODA, priorities should be given to sustainable poverty reduction projects including education, institutional development, knowledge and technology transfer.
On the other hand, the NA Standing Committee said ODA loans should be allocated to large-scale projects, such as those in infrastructure development and regional social-economical development.
NA Vice Chairman Phùng Quốc Hiển said that ODA loans should never be borrowed using the Government's current spending/expenditures.
"ODA loans and foreign preferential loans should be calculated to avoid dependence on foreign investors," he added.
The committee yesterday afternoon also discussed the plan for mid-term public investment of the period 2016-20 and the non-refundable assistance from Ireland for the 135 Programme, which aims to provide assistance for socio-economic development in communes with special difficulties.—VNS