Heads of Vietnamese overseas missions help promote the country's international relations
|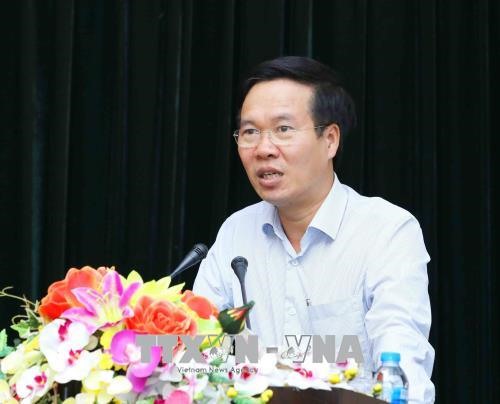 | | Head of the Communist Party of Việt Nam's Central Committee (CPVCC) Commission for Publicity and Education, Võ Văn Thưởng. — VNA/VNS Photo |
HÀ NỘI — Head of the Communist Party of Việt Nam's Central Committee (CPVCC) Commission for Publicity and Education, Võ Văn Thưởng, on Thursday called on the Government's overseas representatives to further strengthen their roles building a bridge between Việt Nam and the world.
Speaking at a meeting with heads of Vietnamese missions overseas in Hà Nội on Thursday, Thưởng said the next three years would be a crucial period with many international affairs and events for Việt Nam.
He asked heads of Vietnamese missions and diplomatic representatives to take full advantage of their positions linking Việt Nam globally and to spread the word of the State and Party's international relations policies and strategies.
He also asked them to help promote and consolidate Việt Nam's relationships with other countries while lifting the image of Việt Nam to new heights.
Heads of Vietnamese representative agencies abroad were also asked to properly study the places where they are staying and learn from their cultural, economic and socials achievements to contribute to the construction and protection of the nation.
Thưởng said he wished representatives would quickly understand the needs and thoughts of Vietnamese people overseas when it comes to domestic social-economic situations and effectively fight 'fake news' about the country's policies.
Citizen protection and national culture promotion should be strengthened to introduce the country's image to the world, he said. Economic diplomacy, on the other hand, is of great importance to promote trade relations and expand export markets for Vietnamese goods as well as attracting more investment to local business.
Also on the same day, General Director of the Vietnam News Agency (VNA) Nguyễn Đức Lợi has worked with heads of the agency's overseas missions for the term of 2018-21.
The general director emphasised that the VNA and the Ministry of Foreign Affairs, as well as Vietnamese representative missions abroad, have a long-term commitment to effective cooperation.
Over the past 73 years, VNA has made many contributions that have been recognised by the Party and State and is striving to build into a powerful multi-media corporation. The VNA has a system of correspondent offices in 63 domestic provinces and 30 offices located in five continents. — VNS