Hungary lauds VN's importance
|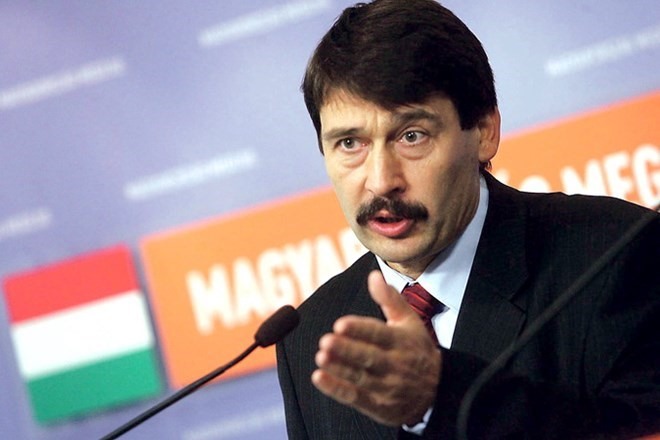 | | Hungarian President Janos Ader. — EPA Photo |
BUDAPEST — Hungary considers Việt Nam the most important partner in Southeast Asia and will work to strengthen the comprehensive partnership with the country, Hungarian President Janos Ader has said.
He made the statement during his meeting with General Secretary of the Communist Party of Việt Nam Central Committee Nguyễn Phú Trọng in Budapest on Monday.
Ader said Trọng's visit is an important event, opening up a new stage in bilateral relations in all areas.
He expressed his pleasure with achievements in bilateral relations, especially Hungary's preferential credit for water and environment projects in Việt Nam.
He underlined the importance of protecting water resources and the water environment, suggesting enhanced co-operation in training, including those working in the water sector.
The President said Hungary would be willing to provide Việt Nam with water retention technology for drought days, while wishing Việt Nam would create favourable conditions for the development of Hungarian pharmaceuticals in the Vietnamese market.
General Secretary Trọng highly valued the positive development of the relations between the two countries in recent times, stressing that Việt Nam always attached importance to strengthening and developing friendship and co-operation with traditional friends in Central and Eastern Europe, including Hungary – a leading important partner.
Stressing the importance of economic cooperation, the Party leader briefed President Ader on Hungary's projects in Việt Nam, including water projects. They agreed to direct the implementation of the agreements signed by the two governments, particularly those of socio-economic importance.
The Party General Secretary welcomed the Hungarian President's proposals on personnel training, as well as cooperation in agriculture and medicines.
Also on Monday, the Party chief host a reception for Chairman Botz Laszlo and members of the Hungary-Vietnam Friendship Association in Budapest as part of his official visit to Hungary, underlining that both nations have long-lasting relations which have been increasingly fortified over the years, and they are celebrating the 70th anniversary of diplomatic ties.
A line-up of activities had been carried out to boost all-round co-operation, he said, expecting that the association would continue effective and practical activities to further develop the bilateral ties.
Laszlo briefed the Vietnamese leader on the association's development, saying it had paid due attention to supporting and connecting small and medium enterprises of Hungary with Vietnamese partners, along with accelerating friendship and cooperation between localities of both sides.
Also on his trip to Hungary, Party General Secretary Trọng, met Prince Andrew of the United Kingdom who is also on a trip to the country.
The Hungarian Workers' Party always supports Hungary's efforts to intensify its relations with Việt Nam, affirmed Chairman Gyula Thürmer at his meeting with visiting General Secretary of the Communist Party of Vietnam (CPV) Central Committee Nguyễn Phú Trọng in Budapest on Tuesday.
Hungarian Workers' Party
The Hungarian Workers' Party, although an opposition party, always backs Prime Minister Viktor Orban's policy of tightening co-operation with Việt Nam, he stated, stressing that this is his party's consistent policy.
He expressed his hope to learn from the CPV's experience as the party has succeeded in protecting itself and leading the country to gain growth.
Party leader Trọng, in turn, said that his visit aimed to enhance the two countries' time-honoured friendship and lift the comprehensive partnership to a new height.
"Việt Nam always bears in mind the valuable assistance by the Hungarian Workers' Party," he stressed.
He also affirmed the CPV's consistent policy in its relationship with the Hungarian Workers' Party, hoping that the two sides step up delegation exchanges and experience sharing. — VNS
— VNS