Minister Lâm said no 'restricted zone' in handling wrongdoings
|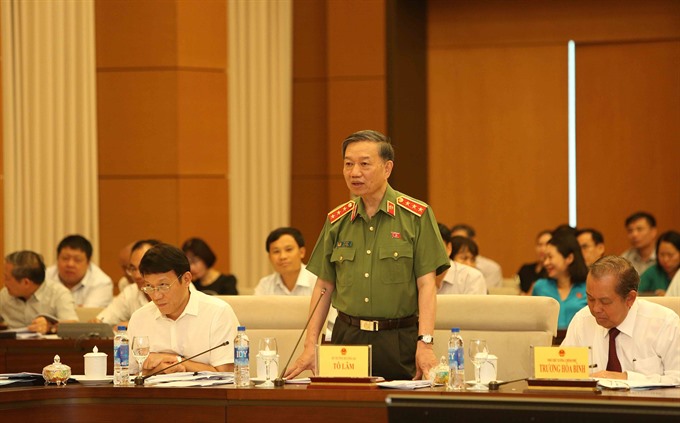 | | Minister of Public Security fielded queries by National Assembly deputies during yesterday hearing. — VNA/VNS Photo Dương Giang |
HÀ NỘI — Minister Tô Lâm said yesterday that the Ministry of Public Security and the Central Public Security Party Committee are determined to deal with any violations within the ministry, even those involving senior officers.
Sen. Lt. Gen. Tô Lâm was reporting on issues within his ministry at a question and answer session during the 26th meeting of the 14th National Assembly Standing Committee.
He stressed that there must be no "restricted zones" in the handling of misconduct, which will help enhance the public security force's strength.
Recently, there have been considerable difficulties in ensuring national security and social order, he noted, pointing out the substantial impacts from the strategic competition of major countries in the region and the uptick in anti-Party and anti-State activities by hostile forces.
While social security, land-related complaints and mass protests disturbing public order are complicated issues for national safety, organised crime connected to murder, robbery and technology have also been on the rise. Cross-border drug trafficking, drug production, fires and traffic accidents remain complex problems, he said.
Minister Lâm praised the public security force for managing to firmly ensure national security and social order and safety, while also reforming the ministry with a streamlined, efficient and effective apparatus.
With a smoother apparatus, unchanged functions and more difficult tasks, the ministry will have to exert more efforts to fulfil its tasks, he emphasised.
Providing details on crime in Việt Nam, Lâm said that gang activities have become more sophisticated and are closely linked with economic, narcotics, environmental crime and other criminal activities. Meanwhile, he added that up to 68.5 per cent of all uncovered cases were linked to asset appropriation.
Each year, the public security force successfully solves nearly 80 per cent of all cases and more than 90 per cent of very serious cases, he said, adding that the drug volume seized in the first half of 2018 was almost equal to that of the whole 2017. Many large drug trafficking rings were broken up, including in the northern province of SÆ¡n La.
The official also highlighted the improvement in the handling of economic and corruption cases, considering it an example of progress in the war against corruption.
The aforementioned outcomes have helped maintain political security and contributed to the country's development and external affairs successes, Lâm added. — VNS