NA discusses socio-economic performance
| s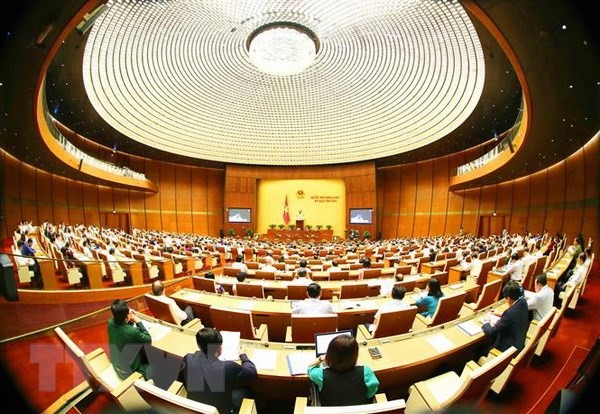 | | National Assembly (NA) deputies expressed their concern over waste caused by ineffective public investment at the NA's yesterday discussion.— VNA/VNS Photo Phương Hoa |
HÀ NỘI — National Assembly (NA) deputies expressed their concern over waste caused by ineffective public investment during the on-going sitting in Hà Nội which was broadcast live on Friday, which focused on the mid-term national socio-economic performance during 2016-20 period.
Deputy Nguyễn Hữu Cầu cited examples of delayed projects to voice his concern over cost overruns seen in 27 out of 42 transport projects managed by the transport ministry.
The Cát Linh - Hà Đông elevated train project, for which investment capital has increased by more than 200 per cent, has not been put into operation, though it was expected to open in 2013.
The cost of the Bến Thà nh-Suối Tiên metro project in HCM City has increased by VNĐ47 trillion (US$2 billion). Its operation is expected to start by the end of this year but only 52 per cent of its work has been completed.
The Đà Nẵng - Quảng Ngãi expressway, worth over VNĐ34 trillion, was quickly degraded due to heavy rain right after being opened to traffic. The expressway also caused huge losses to the State budget.
Cầu is worried that investment in major expressways and Long Thà nh Airport projects will be continuously wasted if the cost overruns and delays are not controlled.
Deputy Dương Trung Quốc proposed the Government soon approve the construction of Long Thà nh International Airport in southern Đồng Nai Province to avoid further waste because "waiting time means wasting money".
He also proposed the transport ministry invest in transport infrastructure which links to the airport to ensure connectivity.
Regarding slow disbursement of Foreign Direct Investment (FDI) to the business sector, deputy Bùi Ngọc Phương, said that a lot of enterprises complained that waiting for the capital takes too much time due to the many procedures that must be done by a number of State agencies.
He proposed the Government reduce the number of business conditions and reform administrative procedures so that localities and enterprises can access investment capital more quickly.
Pressure on State budget
According to deputy Phạm Xuân Thăng, regular State spending accounts for a large proportion of total State spending, making 64.68 per cent in 2017, while spending on development investment made up only 26.2 per cent. He blamed the large figure of regular spending on the cumbersome State apparatus with many public sector employees.
The work of downsizing public servant numbers and restructuring the public offices and agencies remains slow. Only 0.2 per cent of public agencies have so far gained autonomy in terms of finance and regular spending, he said.
The personnel streamlining work has not eliminated officials with weak capacity, deputy Tạ Văn Hạ said, proposing merging administrative units of provinces and cities as a measure to restructure organisations and streamline State personnel.
Education in the spotlight
Deputy Nguyễn Lân Hiếu said that the Government measures taken to address educational issues, such as quality of higher education, teacher redundancy and shortage in different areas and violations of the national high school exam this year, have not made any breakthroughs and are similar to those proposed at previous NA meetings.
To take the cheating scandal in the national high school exam as an example, Hiếu said that those who responsible for the violations must regain public trust.
Responding to deputies' concern over the exam cheating scandal this year, Minister of Education and Training Phùng Xuân Nhạ said that the ministry "has taken experiences" from the scandal and been consistent with exam reform which aims to reduce pressure, avoid waste and increase transparency.
The new policy of one curriculum with many sets of textbooks aims to fully tap the creativity of teachers, he said.
Talking about the imbalanced number of teachers between areas, Nhạ said that the ministry is in charge of teacher quality. Teacher recruitment is the task and responsibility of local authorities.
Nhạ asked localities to ensure an adequate number of teachers and not to reduce teacher quantity, especially in remote island or mountainous areas.
Positive agricultural outlook
According to Minister of Agriculture and Rural Development Nguyễn Xuân Cường, Việt Nam's agricultural growth in the first nine months of this year was high.
The damages the sector suffered in this period were about VNĐ15 trillion compared to the total losses of VNĐ60 trillion in the previous year.
It is a positive number in the context of natural disasters' huge impacts on many countries in the world, he said.
In the remaining two months of 2018, Cường said that the sector still needs to step up measures to respond to any mishaps in agricultural production.
The minister expressed his positive expectation of achieving the target of classifying 50 per cent of communes nationwide as new-style rural areas by 2019, reaching the goal one year ahead of plan. So far 40.3 per cent of the communes have been recognised.
During the session on Friday, other social issues related to health insurance, social housing for low-income people, climate change and sustainable poverty reduction received many comments from deputies.
The discussion on the national socio-economic performance of the 2016-20 period and plan for next year will continue on Saturday and Monday. — VNS