PM Phúc receives US Under Secretary of Commerce
|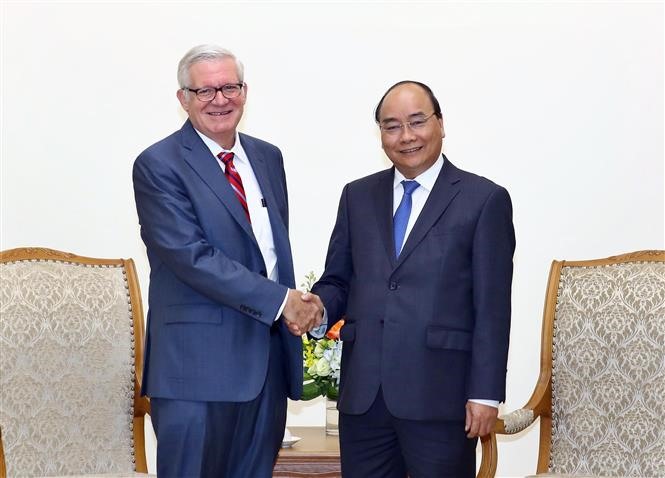 | | Prime Minister Nguyễn Xuân Phúc (right) meets US Under Secretary of Commerce for International Trade Gilbert Kaplan in Hà Nội on Tuesday. - VNA/VNS Photo |
HÀ NỘI — The potential for cooperation between Việt Nam and the US remains huge, especially in trade and investment, Prime Minister Nguyễn Xuân Phúc has said.
The Vietnamese PM made the remark on Tuesday while receiving Gilbert Kaplan, Under Secretary of Commerce for International Trade at the US Department of Commerce, who is in Việt Nam to attend the 2018 US-Việt Nam Business Summit.
Lauding the initiatives and efforts of the US to promote regional cooperation and connection, Phúc affirmed that the US was among leading partners of Việt Nam and expressed his hope to further promote the comprehensive partnership with the US.
Phúc said the visit of the US Under Secretary of Commerce opened a new space for bilateral ties, especially in trade. 
In the first six months of 2018, exports of the US to Việt Nam surged more than 20 per cent year-on-year, and Việt Nam had inked major contracts to purchase goods from the US.
Việt Nam would continue with its reform policy and international integration, as well as improve the business climate, creating optimal conditions for foreign firms, including those from the US, Phúc said.
He expressed his delight as many major corporations of the US are present in Việt Nam, adding that the World Economic Forum on ASEAN (WEF ASEAN) hosted by Việt Nam would offer a chance for US businesses to study opportunities for investment and business in the country.
The PM also voiced his hope for balanced trade with the US in the future.
For his part, Kaplan agreed with his host that bilateral relations had been thriving in many fields. 
He said his visit aimed to affirm the country's commitment to bolstering cooperation with Việt Nam, and also to discuss measures to enhance bilateral trade and investment. — VNS