PM Phúc urges Kon Tum to promote sustainable forest development
|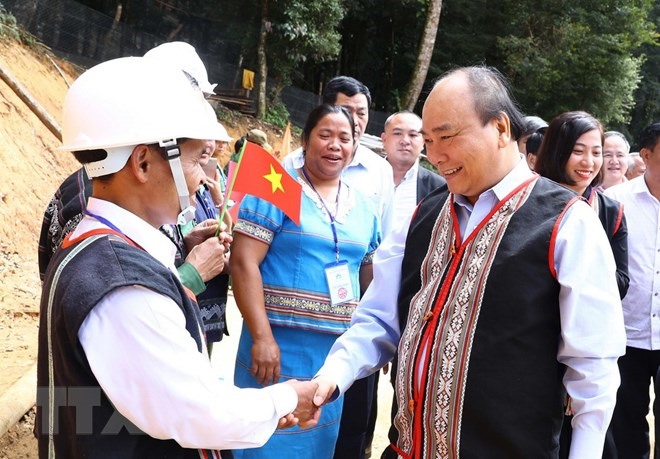 | | Prime Minister Nguyễn Xuân Phúc meets with local residents in the Central Highlands province of Kon Tum. — VNA/VNS Photo Thống Nhất |
KON TUM — Prime Minister Nguyễn Xuân Phúc asked the Central Highlands province of Kon Tum to develop forests in sustainable manner with higher productivity in combination with growing medical herbs.
At a working session with provincial leaders on Wednesday as part of his trip to Kon Tum, PM Phúc said the province should develop clean agriculture, multi-functional high technology, energy and processing industries, border gate economy and tourism.
He suggested the area should give priority to developing important and suitable sectors, and mobilising resources for sustainable growth, especially in the fields of transport and irrigation.
More attention must be paid to handling land-related issues, raising educational levels of local people, and attracting more investors, especially big ones, he said.
The PM praised achievements Kon Tum has recorded in socio-economic development, ethnic affairs and foreign relations, especially in consolidating the friendship and traditional co-operation with the neighbouring countries of Laos and Cambodia.
Talking about Ngọc Linh ginseng which is dubbed as the national treasure planted in Kon Tum, PM Phúc said the province has reaped initial successes in developing the rare medical herb with high economic values.
But the Government leader pointed out that the province has failed to fully tap into its potential and per capita income has remained low.
Other products like coffee and farm produce have yet to build their own brand names, while there remained limitations regarding business development, the provincial competitiveness index (PCI) and the quality of human resources, he said.
At the working session, Kon Tum authorities proposed the Government hand over special-use forests to the province to carry out projects on growing Ngọc Linh ginseng and other medical herbs, with a pilot area of 8,807ha in the Ngọc Linh Nature Reserve.
In this regard, PM Phúc asked Kon Tum to review the outcomes of implemented projects and coordinate with the Ministry of Agriculture and Rural Development to report the results to the PM for further consideration.
The Central Highlands province of Kon Tum is home to 28 ethnic groups, of whom 53 per cent are ethnic minorities. — VNS