PM calls for more non-refundable aid from World Bank
|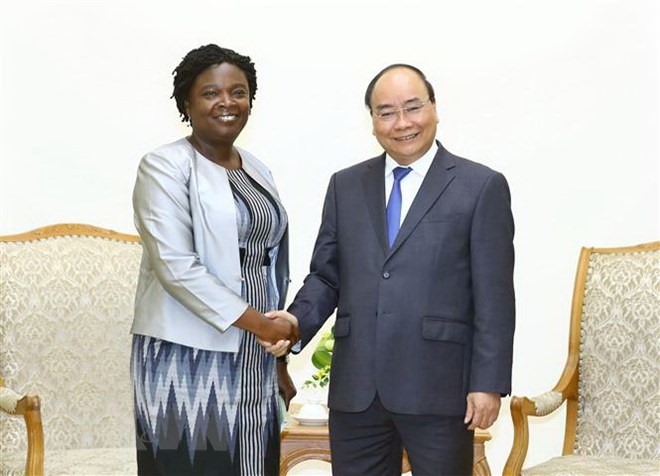 | | Prime Minister Nguyễn X. uân Phúc (r) receives WB Vice President for East Asia and Pacific Victoria Kwakwa in Hà Nội on Tuesday. — VNA/VNS Photo Thống Nhất |
HÀ NỘI — Prime Minister Nguyễn Xuân Phúc has proposed the World Bank (WB) continue its non-refundable aid for Việt Nam in institutional reform, legal framework improvement and economic restructuring.
Receiving WB Vice President for East Asia and Pacific Victoria Kwakwa in Hà Nội on Tuesday, PM Phúc applauded the WB official's attendance at the World Economic Forum on ASEAN (WEF ASEAN) 2018, saying that this would make an important contribution to the success of the event.
Việt Nam always treasured the WB's support for the country, not only its long-term loans but also policy consultancy to help the Vietnamese Government improve macroeconomic management, he stressed.
The PM added that the Government of Việt Nam backed the WB's plan to increase capital to provide long-term financial resources for its members.
While expressing his gratitude to the WB and Kwakwa personally for arranging assistance for Việt Nam, PM Phúc urged the WB to continue its assistance to Việt Nam in energy and transport development, and help Việt Nam build a roadmap for increasing the private sector's investment in these areas, thus reducing the leadership role of the Government.
The Vietnamese leader suggested the WB provide consultancy and coordinate with other donors such as the Asian Development Bank (ADB) and the Asia Infrastructure Investment Bank (AIIB) to co-finance Việt Nam in the context that the Southeast Asian nation has a strong demand for infrastructure development in the future.
While discussing the outlook for Việt Nam's economic growth this year, Kwakwa said that Việt Nam's economy had good prospects thanks to positive indicators related to its exports and FDI attraction.
Việt Nam was likely to reach a growth rate of 6.8 per cent in 2018, she said, expressing her belief that Việt Nam's economic development would continue.
Kwakwa recommended the Vietnamese Government roll out clear policies to help improve confidence among investors and promote the stability of the country's macro-economy.
If Việt Nam continued to manage its macro economy and curb inflation, it would attract more and more enterprises and investors, she said, suggesting that Việt Nam needed to continue removing points that were not in line with international practices in the field of taxation. — VNS