PM discusses socio-economic development with NA deputies
|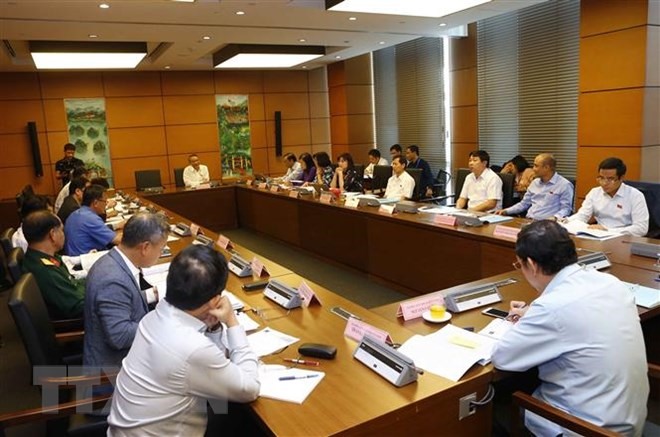 | | Prime Minister Nguyễn Xuân Phúc discussed Việt Nam's socio-economic development with NA deputies yesterday during the on-going National Assembly meeting in Hà Nội.— VNA/VNS Photo |
HÀ NỘI — Prime Minister Nguyễn Xuân Phúc discussed Việt Nam's socio-economic development with NA deputies yesterday during the on-going National Assembly meeting in Hà Nội.
"We have made a lot of progress in improving living standards, stabilising the domestic currency, strengthening Việt Nam's position within the international community and adapting to a fast-changing world," said the PM.
"We are not entirely happy but there have been improvements made in some of the most important areas for a country with a population reaching 100 million such as food, energy, the State's budget and foreign-exchange reserves."
The PM, however, pointed out a number of shortcomings that he said the Government must quickly address, such as the gap between economic and social development, better social security and criminal activities.
He said the Government is determined to push ahead with reforms to provide society and businesses with a platform to stimulate growth and drive technological advancement. The PM highlighted the importance of the private sector and urged localities to support local businesses and attract more FDI.
On the topic of the State's budget, the PM said large-scale loans are associated with great risks if they are not well maintained. In recent years, cutting down waste and boosting effectiveness have been key priorities for the Government in handling development loans.
In addition, fighting corruption and the influence of interest groups are matters of urgency for the country's whole political apparatus, as failing will severely damage the public's trust in the Government.
He said public officials must make the people's needs as their top concern and priority.
"A large number of complaints and grievances among the public could be attributed to the lack of attention given by local officials. Dialogue on a local level is an important channel for the people to be listened to," said the PM. He pledged the Government will take concrete measures to make sure localities will improve on this front.
Votes of confidence
National Assembly deputies are casting their votes of confidence for 48 top Government officials. The votes, considered a highlight of this year's NA meeting, are intended to reflect the officials' performance and the public's trust in them. This, in turn, will serve to identify capable officials for vital positions within the Government.
On the other hand, officials with many votes of no confidence may be advised to step down before the end of their term.
Deputy Nguyễn Thị Kim Thúy said the NA's confidence vote had been an effective measure to push Government officials to meet the public's needs. Thúy said "The vote is an opportunity for reflection to realise their offices' shortcomings and to make changes to address them".
Deputy Lưu Bình Nhưỡng said "The timing for the motion is ideal as the officials have served half of their terms. The vote of confidence will push officials to make improvements for their remaining time or even point out officials that should be replaced in cases of particularly low confidence."
One of the most important factors for NA deputies to consider in casting their votes is the officials' ability to listen to and address complaints and grievances made by the public in a timely manner, according to deputy Đỗ Văn Sinh.
Another is to look at how they conduct themselves and handle their offices during crises.
"It's more important to look at how they handle scandals and possible wrongdoings in fields under their charge than to always blame them for what happened. We, as NA deputies, hold in high regard public officials who have showed resolve to address issues and those who don't shy away from taking responsibility," said deputy Bùi Sỹ Lợi. — VNS