Party leader to visit Russia from Wednesday
|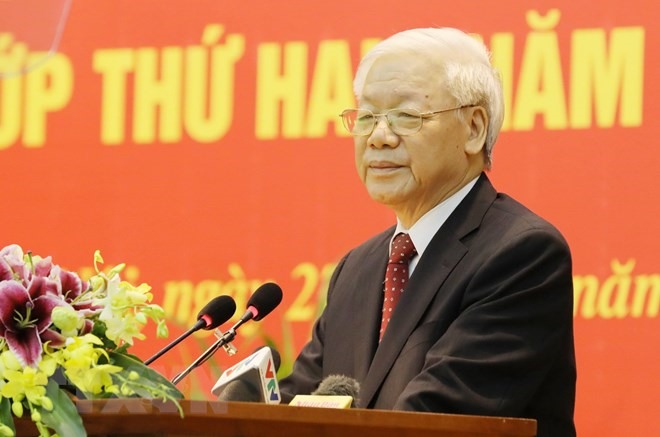 | | Party General Secretary Nguyễn Phú Trọng will pay a four-day official visit to Russia from Wednesday, the Ministry of Foreign Affairs has announced. — VNA/VNS Photo Phương Hoa |
HÀ NỘI – Party General Secretary Nguyễn Phú Trọng will pay a four-day official visit to Russia from Wednesday, the Ministry of Foreign Affairs has announced.
The visit which comes at the invitation of Russian President Vladimir Putin takes place as the two countries will celebrate the 25th anniversary of the Treaty on fundamental principles of the bilateral friendly ties and the 70th anniversary of the diplomatic relationship between Việt Nam and Russia.
The Party General Secretary's visit to Russia will mark the first ever visit made by the Vietnamese's highest leadership since Russian President Putin was reelected in March, Vietnam News Agency reported.  The practice aims to fortify political trust and strategic linkage and enhance the co-operation between the two countries. Also it further asserts Việt Nam's consistent policy that Russia is a top priority in the country's foreign policy and promotes the Comprehensive Strategic Partnership with Russia to make it practical and efficient.
Trade between the two countries has grown strongly, especially under the context of the Việt Nam-Eurasian Economic Union (EAEU) Free Trade Agreement (FTA) which took effect in October 2016. The implementation of the agreement is expected to create breakthroughs and make it possible for the bilateral trade to reach US$10 billion in 2020. The figure rose 31 per cent year-on-year to $3.55 billion in 2017.
In the first four months of 2018, the export-import turnover between the two countries reached $1.43 billion (31.83 per cent over the same period of 2017), in which Việt Nam's exports to and imports from Russia stood around $756 million (up 23.54 per cent), and $681 million (up 42.5 per cent) respectively. Việt Nam mainly exports to Russia phones, garments, agro-aquatic products, and seafood while importing petroleum, steel, fertiliser, machines and other devices.
Russia ranks the 22th among 177 countries and territories making investments in Việt Nam, with 116 projects being effective and with total registered capital of around $990 million. Russia's investment mostly focuses on the areas of petroleum, industry, manufacturing, energy, mining, transport, aquaculture and fishing.
Việt Nam's investment in Russia has made remarkable progress with investment capital increasing from over $100 million in 2008 to nearly $3 billion at present. The 23 investment projects concentrate in the areas of petroleum, commerce and agriculture, among others. — VNS