President visits Egypt to boost ties
|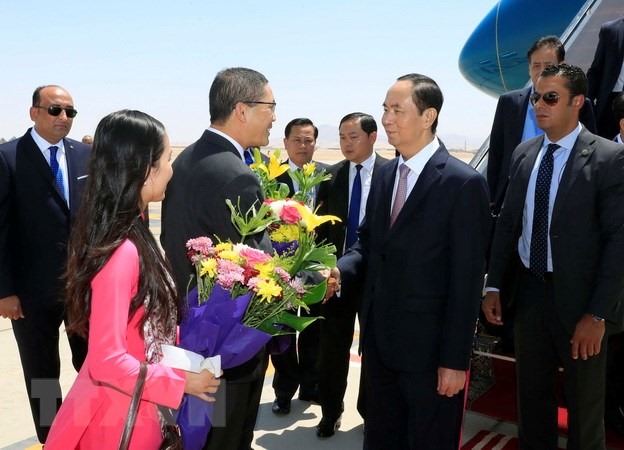 | | President Trần Đại Quang and his wife are in Luxor city on his first State visit to Egypt at the invitation of President Abdel Fattah Al-Sisi.—  VNA/VNS Photo Nhan Sáng |
CAIRO — President Trần Đại Quang and his wife are in Luxor city on his first State visit to Egypt at the invitation of President Abdel Fattah Al-Sisi.
The visit, from August 25-29, is to reaffirm commitments both sides signed last year, and promote measures to boost bilateral cooperation in all aspects such as politics, economy-trade and investment, culture and education.
Egypt is one of the first Arab countries to have relations with Việt Nam. From 1958, Việt Nam established a trade representative office in Egypt. Five years later, Việt Nam and Egypt officially set up diplomatic ties. The same year, Việt Nam opened its embassy in Cairo. In 1964, Egypt opened its embassy in Hà Nội.
Egypt was the first North African country to recognise Việt Nam's market economy in November 2013.
Egypt is the fifth largest trade partner of Việt Nam in Africa. Bilateral trade between the two countries reached US$350 million in 2017. Việt Nam's main exports to the country included seafood, auto spare parts, fabrics, black pepper, coffee, rubber, and consumer goods.
Each year, Egypt provides 12 Arab language training scholarships for Vietnamese students. During President Abdel Fattah Al-Sisi's visit to Việt Nam in September 2017, Egypt pledged to provide technical assistance and training for 10-20 officials on Halal standards for goods exported to the Muslim market.
The two countries have coordinated and provided mutual support at international forums, as well as shared views on issues of mutual concern at the United Nations.
The Egyptian Gazette, the oldest English newspaper in the Middle East, on Sunday carried a story on its front page highlighting Quang's ongoing State visit to Egypt.
The paper said the visit is expected to usher in new cooperation prospects between the two countries.
It reported that this is the first visit of a Vietnamese Head of State to Egypt since the two countries established diplomatic ties in 1963. 
The two Presidents will hold talks in Cairo discussing new prospects of bilateral cooperation in a variety of domains such as politics, economy, trade investment, culture and education.
The newspaper quoted President Quang as saying to Egyptian media that he was pleased to pay a State visit to Egypt at a time when the two countries were holding a range of significant events to celebrate the 55th anniversary of the establishment of the diplomatic relations.
The President was also quoted as saying that he would discuss with President Sisi and senior Cairo government officials the directions and measures to promote cooperation and friendship between the two countries in politics, defence, security, trade, investment, agriculture, education and training, culture and tourism
He added that there are immense prospects and potentials for bilateral co-operation across all areas between Việt Nam and Egypt.
The newspaper also mentioned the official visit to Việt Nam by Egyptian President Abdel Fattah El Sisi in September last year. — VNS