Prime Minister Phúc receives outgoing Italian Ambassador
|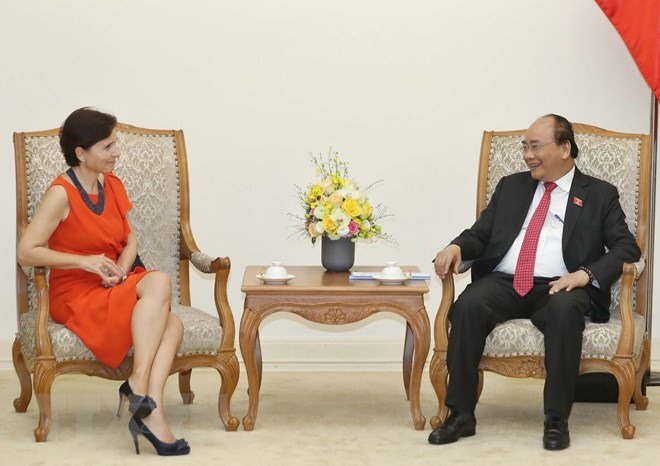 | | Prime Minister Nguyễn Xuân Phúc (r) receives Italian Ambassador Cecilia Piccion, who came to say farewell at the end of her tenure, in Hà Nội on Wednesday.—  VNA/VNS Photo Thống Nhất |
HÀ NỘI —  Prime Minister Nguyễn Xuân Phúc received Italian Ambassador Cecilia Piccion, who came to say farewell at the end of her tenure, in Hà Nội on Wednesday.
At the reception, the PM lauded the successful tenure of the diplomat, adding that she made made various contributions to the development of Việt Nam – Italy ties.
Bilateral relations saw strides during her term, and many Italian firms had come to Việt Nam to invest in the country. However, the potential for co-operation remained huge, especially in trade and investment, he noted.
The EU – Việt Nam Free Trade Agreement (EVFTA) would be a driving force to lift two-way trade turnover and investment, as well as a good opportunity for businesses of the countries, Phúc said, voicing his hope that Italy would push the signing and ratification of the deal.
The Vietnamese Government would create optimal conditions for foreign investors, including those from Italy, he pledged.
The Government leader also expressed his belief that the Italian diplomat would contribute to Việt Nam-Italy ties in her new position.
For her part, Ambassador Piccion thanked the Vietnamese Government, ministries and authorities for their support to her during her work in the country, and voiced her hope for the early signing and ratification of the EVFTA.
Italy is the fourth biggest trade partner of Việt Nam in the EU while Việt Nam is the biggest trade partner of Italy in the Association of Southeast Asian Nations (ASEAN).
Over the past five years, two-way trade neared US$5 billion each year, and both sides are working to lift it to $6 billion for 2017-18. Within 10 years, from fourth place, Việt Nam has become the largest trade partner of Italy among the 10 ASEAN member countries.
As of February 2018, Italy ranked 31st out of the 128 countries and territories investing in Việt Nam, with 88 projects worth more than $388 million. The Italian government has added Việt Nam into its list of 10 emerging markets prioritised for trade and investment ties. — VNS