Prime Minister meet with foreign leaders
|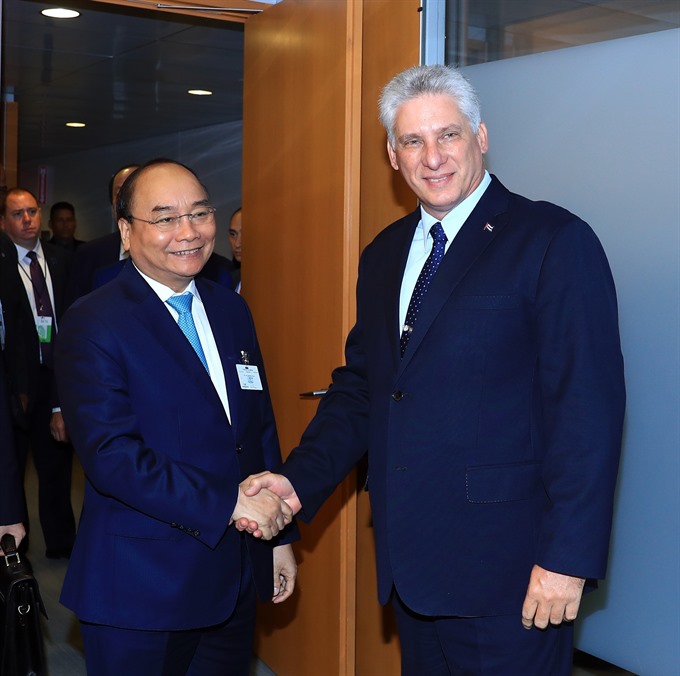 | | Prime Minister Nguyễn Xuân Phúc (L) receives President of the Council of State of Cuba Miguel Díaz-Canel (R). — VNA/VNS Photo Thống Nhất |
NEW YORK – Prime Minister Nguyễn Xuân Phúc held meetings with leaders of Cuba, Bulgaria, Croatia, Fiji and Saint Lucia in New York, during which he briefed them on Việt Nam's development achievements and its foreign policies.
He asked the countries to support Việt Nam's candidacy for non-permanent membership of the UN Security Council for the 2020-21 tenure, and affirmed the country's strong commitment to contributing more to maintaining international peace and security.
The leaders appreciated Việt Nam's increasingly important role in the region and the world. They expressed their belief that Việt Nam would perform well as a non-permanent member of the UN Security Council, while pledging to maintain close co-ordination with the country within the framework of the UN and other international organisations.
Meeting President of Cuba's Council of State and Council of Ministers Miguel Diaz-Canel, PM Phúc suggested both sides continue consolidating existing co-operation mechanisms, speeding up the establishment of new ones, exchanging experience and increasing the efficiency of existing co-operation projects.
Diaz-Canel agreed to boost economic co-operation to match the two sides' potential, and lauded projects Việt Nam was implementing in Cuba's special economic zones.
While meeting Bulgarian Prime Minister Boyko Borisov, the Vietnamese leader asked Bulgaria to continue encouraging its enterprises to explore investment and business opportunities in Việt Nam in oil and gas, bio-technology, information technology, environmental protection and food processing.
He expressed his hope that Bulgaria would help speed up the European Union's signing of its free trade agreement with Việt Nam this year.
The Bulgarian PM agreed to develop bilateral ties, while hoping to welcome PM Phúc and other Vietnamese leaders to his country.
At his meeting with Croatian President Kolinda Grabar-Kitarovic, PM Phúc affirmed Việt Nam's willingness to create favourable conditions for Croatian enterprises, while suggesting both sides intensify delegation exchanges and trade and investment promotions to raise bilateral trade to US$200 million in the next five years.
Agreeing with the Vietnamese leader's proposal, the Croatian President welcomed the two countries' signing of an Avoidance of Double Taxation Agreement in July.
Meeting Fijian President Jioji Konrote, the Vietnamese PM confirmed his country was willing to share its experience with Fiji in agricultural development, food security, fishing and seafood processing.
Both sides agreed to co-operate closely on climate change, rising sea levels and maritime protection.
Exchanging views with Saint Lucia's Prime Minister Allen Chastanet, PM Phúc welcomed the two countries' establishment of diplomatic ties on June 26, 2018.
He proposed both sides step up delegation exchanges, consider the establishment of several bilateral co-operation mechanisms and create favourable conditions for each other's businesses to seek business opportunities, particularly in agriculture and tourism.
The Prime Minister left New York on Thursday evening (local time), concluding his working trip to attend the High-Level General Debate of the 73rd Session of the UN General Assembly.— VNS