Rearrangement of local administrative units must reflect people's will: Deputy PM
|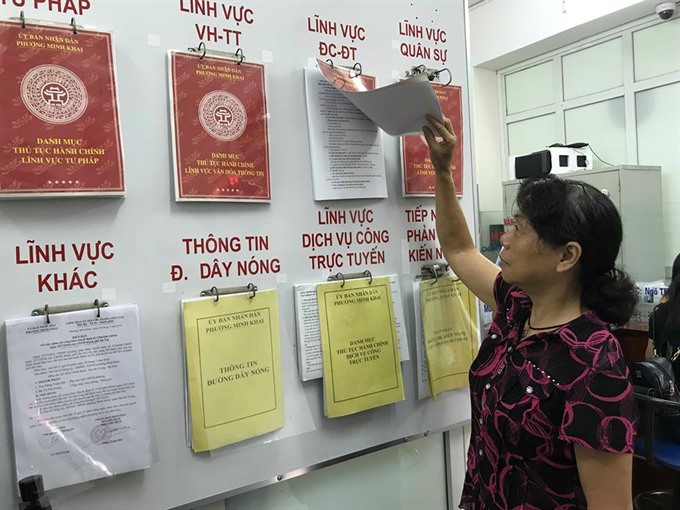 | | From 1986-2016, the number of districts in Việt Nam nearly doubled, from 413 to 713, while the number of communes rose from 9,657 to 11,162.. — Photo baotintuc.vn |
HÀ NỘI — Any rearrangement of administrative units such as merging of communes and districts must be voted on by citizens in those areas to be valid, Deputy Prime Minister Trương Hoà Bình said.
He was speaking at Thursday national conference held by the Ministry of Home Affairs (MoHA) to seek feedback on a draft project which would see a major overhaul of local administrative units by 2030.
The project is one of the latest attempts by the Government to streamline its bloated bureaucracy, reduce the number of workers on a constrained public payroll and improve efficiency.
According to Lê Vĩnh Tân, Minister of Home Affairs, from 1986-2016, the number of districts in Việt Nam nearly doubled, from 413 to 713, while the number of communes rose from 9,657 to 11,162.
However, currently, 36.33 per cent, or 259 districts, of the country's total, and 6,191 communes (55.46 per cent) do not meet one of the two criteria to be classified as they are – total natural area and population, while 18 districts and 637 communes do not fulfil either of the conditions, which means hundreds of districts and communes would be absorbed into one another if the plan goes through.
The rearrangement of localities which do not meet half of the criteria or any of the criteria must be completed by 2021 and 2030, respectively, according to the draft project.
Referring to the Constitution and the Law on Organisation of the Local Governments, Deputy PM Bình said that at least 50 per cent of the local populace must approve of the merger.
"We must make sure that the will of the people is respected. Without public approval, the imposition of the will of the State upon the people is ill-advised," Bình added.
At the meeting, provincial leaders have agreed with the spirit of the project, but expressed concerns as to how to deal with the leaders of the administrative units that were merged and made redundant.
"Take Hà Tĩnh for example, according to the plan, 10 of our new communes are the results of merging up to three existing communes together, which would leave two chairmen of two people's committees and two party secretaries out of their jobs," Lê Đình Sơn, Hà Tĩnh Province's Party Secretary said.
"There should be a discussion and guideline on this issue, otherwise, the merging would face delays," he added.
Đồng Nai Province's Deputy Party Secretary Trần Văn Tư also asked the Central Government for a "uniform regulation" to address excess officials.
"The officials have made their contributions to the development. Their sacrifices must be honoured and cannot be thought of as discarding unneeded human resources," Tư said.
Delegates at the meeting also urged careful consideration on how to minimise the confusion and paperwork troubles for businesses and people during the merging process.
"The rearrangement of local administrative units is aimed at streamlining the administration but legacy, stability and security must still be ensured," Deputy PM Bình said. — VNS