Result of the vote of confidence announced
|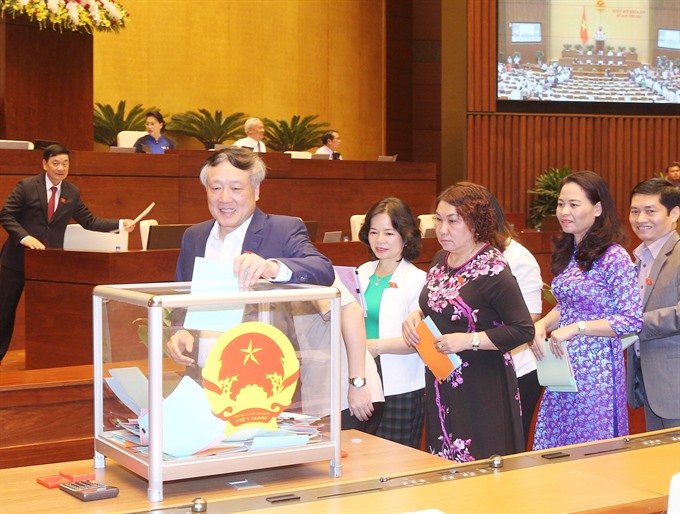 | | National Assembly (NA) deputies casting their votes of confidence for 48 NA-elected positions on October 25 in Hà Nội. — VNA/VNS Photo |
HÀ NỘI — The result of the votes of confidence for 48 officials holding positions elected and approved by the National Assembly was announced yesterday during the sixth session of the 14th National Assembly. 
National Assembly Chairwoman Nguyễn Thị Kim Ngân enjoyed the highest rate of "high confidence" which was 90.1 per cent. The rate for "confidence" was 7.01 per cent.
Meanwhile, 81.03 per cent of deputies gave Prime Minister Nguyễn Xuân Phúc high confidence votes and 14.2 per cent cast confidence votes in him. 
Vice President Đặng Thị Ngọc Thịnh earned a "high confidence" rating in 66.5 per cent of voters and "confidence" of 30.1 per cent of voters. 
Minister of Education and Training Phùng Xuân Nhạ scored the lowest confidence, with 28.87 per cent high confidence votes, 40 per cent confidence votes and 28.85 per cent low confidence votes. 
Speaking to the press on the sidelines, Minister Nhạ said the low score would serve as "motivation for me personally and the entire [education] sector to improve ourselves and have more robust solutions" to address the long-standing issues facing Vietnamese schools.
Other Government members suffering from low rates of "high confidence" include Nguyễn Văn Thể, Minister of Tranport; Nguyễn Ngọc Thiện, Minister of Culture, Sports and Tourism; Lê Vĩnh Tân, Minister of Home Affairs; Phạm Hồng Hà , Minister of Construction; Nguyễn Chí Dũng, Minister of Investment and Planning; and Chu Ngọc Anh, Minister of Science and Technology.
The NA later passed a resolution on the outcomes of confidence votes.
The votes of confidence were conducted in the morning yesterday. A total of 48 officials were subject to voting.
Anti-corruption debates
Earlier the same day, the discussion on the draft revised anti-corruption law showed deputies' views still differed on several major issues in the bill.  
The bill had been discussed at the previous 4th and 5th session of the 14th NA, and the draft presented at this session was revised based on consideration of feedback. Â Â 
One of the contentious issues was the handling of increases in assets and incomes of officials without appropriate explanation of their origins. The latest draft proposes two options for the handling: either to take the matter to court or tax the unexplained assets.
Chairwoman of the NA's Committee of Legal Affairs Lê Thị Nga said there are no legal regulations on increases in income and assets for which the owner cannot explain.
To improve the fight against corruption, the NA Standing Committee proposed handling the assets and incomes with unclear origin at court, Nga said. Â 
However, there was disagreement over the recommendation. 
Deputy Tô Văn Tám from Kon Tum Province said if this option was approved, it would be necessary to prove if the asset was legally or illegally acquired.
"Those who are subject to asset declaration have to explain the asset sources and incomes. If the authority in charge finds such an explanation improper, the case will be brought to court. At this point of time, the court will have to prove either the explanation is proper or not, but would that be overloading for the court?" he asked.
Tám said if such a problem can't be addressed, other options should be considered.
Meanwhile, deputy Nguyễn Ngọc Phương from Quảng Bình Province proposed the NA reconsider the option.
"When the inspection or investigation unit can't prove that certain assets are legal or illegal, it's baseless to transfer the case to court. It would be a breach of the right to asset possession," Phương said.
Deputy Lưu Bình Nhưỡng of Bến Tre Province did not approve of either option. He said if there is suspicion the assets were acquired through corruption, investigations should be launched and when the assets are proved to have come from corruption, they should be confiscated. He asked to keep the current stipulation on the matter unchanged. 
Regarding monitoring officials' assets and incomes, the NA Standing Committee said most deputies supported Government Inspectorate and inspection agencies of ministries, sectors and provinces/centrally-run cities supervise the incomes and assets of officials subject to asset declaration working at ministries, ministerial-level agencies, Government agencies and local administrations, while other agencies and political, socio-political and social organisations are responsible for monitoring assets and incomes of officials under their management. 
The NA Standing Committee was also in favour of this measure. — VNS