Top legislator welcomes Malaysia's Deputy Prime Minister
|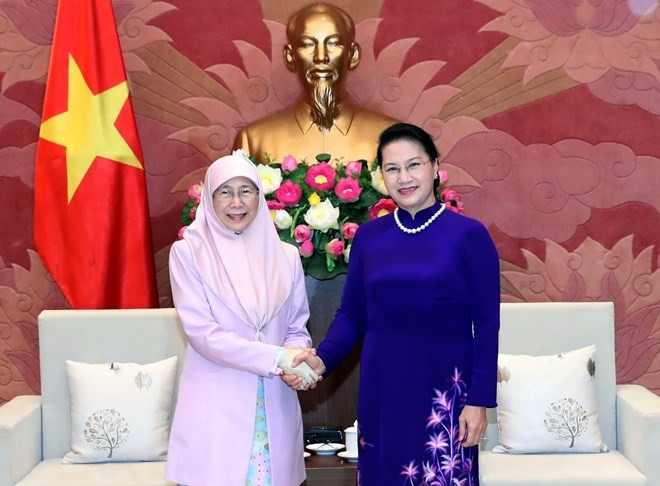 | | National Assembly (NA) Chairwoman Nguyễn Thị Kim Ngân (r) receives Malaysian Deputy Prime Minister Wan Azizah Wan Ismail in Hà Nội on October 24. — VNA/VNS Photo Trọng Đức |
HÀ NỘI — National Assembly (NA) Chairwoman Nguyễn Thị Kim Ngân hosted a reception in Hà Nội on October 24 for Malaysian Deputy Prime Minister Wan Azizah Wan Ismail, during which they agreed to intensify cooperation to protect women's rights, interests and development.
Ngân emphasised that the visit to Viet Nam by the Malaysian Deputy PM was of major significance as the two countries were celebrating the 45th anniversary of diplomatic ties.
The bilateral Strategic Partnership, set up in 2015, had developed well with numerous achievements in economics, trade, investment, security, defence, education and labour, she said, expressing hope that both sides would have in-depth discussions and put forward measures to foster bilateral and multilateral cooperation during this visit.
The Vietnamese legislature always supports and promotes its supervision role in the implementation of signed agreements, according to the chairwoman.
Ngân told her guest that at its ongoing sixth session, the Vietnamese NA would ratify the Comprehensive and Progressive Agreement for Trans-Pacific Partnership (CPTPP) the Vietnamese Government signed with 10 other nations, including Malaysia.
She expressed her hope that the Parliament of Malaysia would soon ratify the agreement, contributing to its implementation in order to promote trade liberalisation and regional economic connectivity.
The top legislator thanked the Malaysian Government for creating favourable conditions for Vietnamese labourers. However, she noted several cases in which labourers refused to sign legal work contracts, and were paid less than their capacity. Therefore, she suggested both sides strengthen cooperation to create a safer and more favourable working environment for all labourers.
Agreeing with Ngân's proposals, Wan Azizah stressed that Malaysia always wanted to put an end to labour abuse, and was exerting efforts to ensure labourers' rights and interests as well as fighting illegal activities in this field.
Both host and guest agreed that the two countries should collaborate with other ASEAN member states to consolidate unity, improve the role of the bloc, and maintain peace in the East Sea.
The Deputy PM took the occasion to congratulate the Vietnamese legislature on its recent election of Party General Secretary Nguyễn Phú Trọng to the post of the country's President. — VNS