Việt Nam, EU resolved to push for early signing of EVFTA: spokesperson
|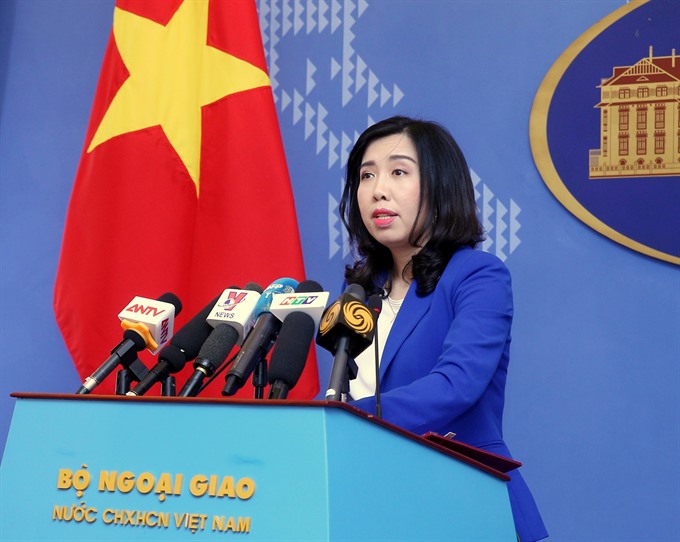 | | Spokesperson for Việt Nam's Ministry of Foreign Affairs Lê Thị Thu Hằng during October 25 press briefing in Hà Nội. — VNA/VNS Photo Lâm Khánh |
HÀ NỘI — Việt Nam and the European Union (EU) will continue efforts to complete procedures to officially sign, ratify and enforce the EU-Việt Nam Free Trade Agreement (EVFTA), said the Foreign Ministry's spokesperson Lê Thị Thu Hằng.
Hằng made the remarks at a ministry press conference in Hà Nội yesterday.
The European Commission (EC) on October 17 agreed to submit the EVFTA to the European Council to seek its approval for the official signing of the deal, she said.
This was an important step, demonstrating the resolve of both sides to push ahead with the agreement, contributing to their co-operation, Hằng said, adding that the move also signalled their support for free trade and an open multilateral trade system.
The EVFTA is a new-generation trade agreement between Việt Nam and 28 EU member countries. Negotiations for the deal concluded on December 1, 2015.
By the end of August 2018, 24 of the 28 EU countries had invested in Việt Nam, with 2,141 valid projects worth some US$24.17 billion. The EU ranks fifth among foreign investors in Việt Nam, after the Republic of Korea, Taiwan (China), Japan and Singapore.
Among EU investors, the Netherlands leads with 318 projects valued at US$9.16 billion, followed by France with 527 projects worth $3.63 billion.
East Sea
Hằng said Việt Nam always kept a close watch on developments in the East Sea (internationally known as the South China Sea) and will verify the information that Taiwan (China) is preparing for a live-fire drill on Ba Bình (Itu Aba) Island, which is part of the Trường Sa (Spratly) archipelago.
The foreign ministry spokesperson reiterated that Việt Nam had sufficient legal basis and historical evidence for its sovereignty claims over the Hoà ng Sa (Paracel) and Trường Sa archipelagoes, in line with international law.
Spokesperson Hằng stressed that any activity conducted by any party on these two archipelagoes without the approval of Việt Nam would constitute a violation of the country's sovereignty and a serious threat to security and order of the East Sea.
Responding to queries on Việt Nam's participation in the ongoing China-ASEAN naval exercise, which entailed the country's sending naval frigate 015 Trần Hưng Đạo to China, Hằng said this was an activity held to foster understanding and exchange of experience, as well as promote capacity building between ASEAN countries and China.
The foreign ministry spokesperson said in the recent visit to Việt Nam by US Defence Secretary James Mattis, the two sides reaffirmed efforts to step up defence co-operation, especially in maritime security, humanitarian aid, disaster relief and peacekeeping activities.
The visit aimed to promote the development of the two countries' relations in line with the framework of the comprehensive partnership, contributing to peace, stability, security, co-operation and development in the region.
Hằng also welcomed the US's continued commitments to remediate Agent Orange contamination in the country, especially in Biên Hòa air base in the southern province of Đồng Nai, as part of its efforts to address war consequences. — VNS