Việt Nam always treasures relations with Malaysia: PM
|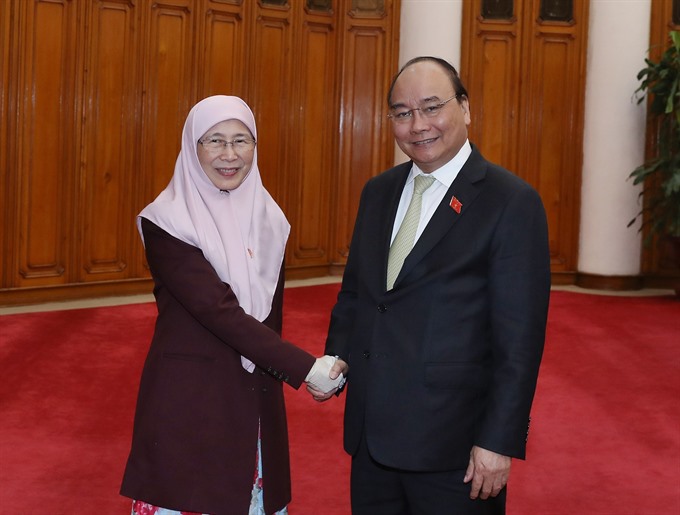 | | Prime Minister Nguyễn Xuân Phúc (right) hosted a reception in Hà Nội on October 25 for Malaysian Deputy Prime Minister Wan Azizah Wan Ismail, who is on official visit to Việt Nam to attend the third ASEAN Ministerial Meeting on Women (AMMW) and related meetings held in Hà Nội. — VNA/VNS Photo |
HÀ NỘI — Việt Nam always attaches much importance to its relations with Malaysia, one of the country's leading partners in the region, Prime Minister Nguyễn Xuân Phúc said as he hosted a reception in Hà Nội on October 25 for Malaysian Deputy Prime Minister Wan Azizah Wan Ismail.
She is on official visit to Việt Nam to attend the third ASEAN Ministerial Meeting on Women (AMMW) and related meetings.
PM Phúc stressed that Việt Nam wants to set up close relations with Malaysia's new government, ruling party and parliament.
He suggested both countries enhance high-level delegation exchanges and hoped to welcome Prime Minister Mahathir Mohamad on his official visit to Việt Nam soon.
The two nations have seen advancements in their relations over 45 years since diplomatic ties were established. Describing Malaysia as one of the most effective economic partners of Việt Nam, PM Phúc said that both sides are enjoying fruitful cooperation in maritime issues, labour, tourism and education.
He expressed his belief that Deputy PM and Foreign Minister Phạm Bình Minh and Wan Azizah Wan Ismail, in their talks on October 26, will detail practical measures to bolster bilateral relations in the coming time, thus developing the Việt Nam-Malaysia strategic partnership intensively.
On the occasion, he recommended both sides should work to raise two-way trade to US$15 billion per year or higher by 2020.
Việt Nam wants to export rice, farm produce and seafood to Malaysia, he said, proposing the Malaysian Government support Vietnamese firms to satisfy Halal standards.
Regarding investment, Việt Nam encourages Malaysian projects in high quality infrastructure, energy, port, logistics, high-tech agriculture, wood and food processing and smart city development, PM Phúc said.
He hoped that the Malaysian Government will order relevant authorities to create favourable conditions for the Vietnamese community in the country, ensuring that they have a stable life.
As both countries have mutual benefits in the region, they should step up cooperation to build an ASEAN Community of solidarity, resilience and development that plays a central role in the regional architecture. Amid the tension in the East Sea, Việt Nam, Malaysia and other ASEAN members should enhance coordination to reach a satisfactory situation.
The Malaysian Deputy Prime Minister said that Malaysia always values the policy of strengthening friendship and collaboration with Việt Nam.
As the training programme for Vietnamese officials has been carried out since 1991, Malaysia hopes to welcome more Vietnamese cadres to study, do research and exchange experiences in the country.
She said that Malaysia wants to foster trade ties with Việt Nam, which holds a very important role in the region, and thanked the Vietnamese Government for facilitating Malaysian businesses' operation in the country.
As Malaysian PETRONAS Group has been present in Việt Nam for a long time, she expressed hope that the enterprise will continue receiving support from the Vietnamese Government.
Also, she agreed that both sides should further maritime and fishery cooperation, saying Malaysia wants to ensure maritime security, safety, peace and stability in the South China Sea (East Sea).
She said that the Malaysian Government always pays due attention to addressing Vietnamese labour issues in the country. — VNS