Việt Nam to work with Czech Republic to address visa-related issue: Foreign ministry spokesperson
|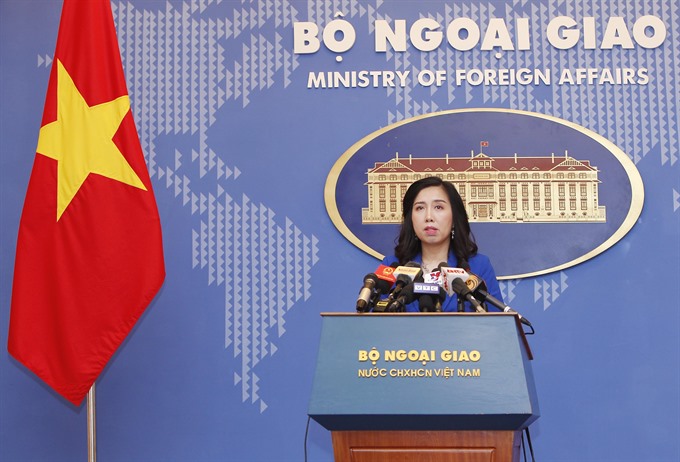 | | Spokesperson for the Ministry of Foreign Affairs Lê Thị Thu Hằng during August 2 press conference. — VNA/VNS Photo Lâm Khánh |
HÀ NỘI — Việt Nam is willing to work with the Czech Republic to address difficulties in granting long-term visas for Vietnamese nationals to work in the European country, said spokesperson of the Ministry of Foreign Affairs Lê Thị Thu Hằng.
Hằng made the statement in reply to reporters' questions about the Czech Republic's decision to suspend the acceptance of work visa applications by Vietnamese nationals at the ministry's regular press conference on August 2.
She said the two countries are enjoying fruitful co-operation, expressing her hope that their co-ordination in this work will make it easier for the two sides to promote bilateral co-operation in many fields.
The suspension applies to the visa applications for long-term residence with the aim of either employment or business activities.
According to Czech Minister of the Interior Jan Hamacek, at present, the priority of the Czech embassy in Việt Nam is to accept residence applications for the purpose of families reuniting.
Cambodia election
At the press conference, Hằng also conveyed the Vietnamese Government's congratulations to Cambodia on the election of the country's sixth National Assembly on July 29.
Hằng noted that the election took place in a safe, free and democratic manner with a high turnout, demonstrating the trust of Cambodian voters in the country's future.
"As a neighbouring country with sound traditional ties with Cambodia, Việt Nam believes that following the success, Cambodia will continue to gain greater achievements in building a peaceful, stable and prosperous nation," Hằng said.
She emphasised Việt Nam is confident that the friendship between Việt Nam and Cambodia will continue to be strengthened, benefiting people of the two nations. 
Regarding the freshly announced US initiative to invest US$113 million in the Indo-Pacific region, spearheaded by State Secretary Mike Pompeo, spokesperson Hằng said Việt Nam "welcomes all initiatives and attempts to boost connectivity in the region" while stressing peace, stability and co-operative development as common goals of all nations.
Regarding queries on Việt Nam's rumoured arms purchase worth nearly $100 million from the US, the foreign ministry spokesperson said she would relay the question to relevant authorities.
However, Hằng reiterated that Việt Nam's national defence policies are always about protecting its rightful sovereignty and maintaining peace, and said that "military co-operation with other countries is one of the means to realise these goals." — VNS