Việt Nam treasures ties with UN: Government leader
|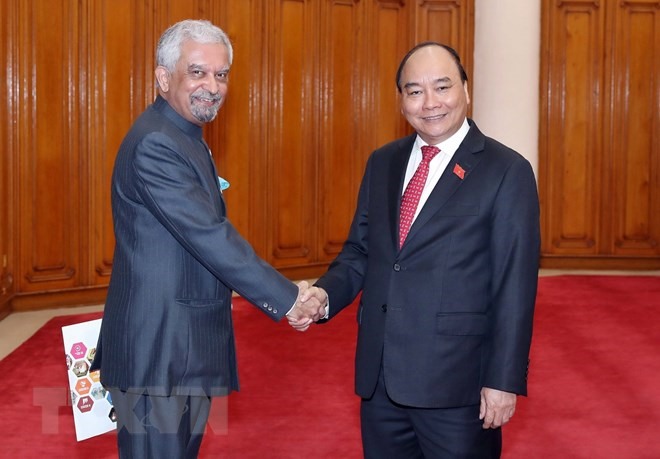 | | Prime Minister Nguyễn Xuân Phúc (r) receives UN Resident Coordinator Kamal Malhotra in Hà Nội on Wednesday.— VNA/VNS Photo Thống Nhất |
HÀ NỘI — Prime Minister Nguyễn Xuân Phúc held a meeting with chief representatives of United Nations agencies in Việt Nam in Hà Nội on Wednesday.
Phúc said that Việt Nam attached importance to its relations with the UN. He recalled his attendance at the High-Level General Debate of the 73rd session of the UN General Assembly in New York in September, adding that he was impressed by a speech by UN Secretary-General Antonio Guterres which highlighted preventive diplomacy, conflict control, climate change response and gender equality.
UN Resident Coordinator Kamal Malhotra described Việt Nam as one of the leading countries in the implementation of the 2030 Agenda on Sustainable Development.
To implement sustainable development goals (SDGs) by 2030, he emphasised the need for the UN and Vietnam to hold a high-level forum to reach a consensus on financial sources.
Representatives of UN agencies in Việt Nam congratulated the country on its socio-economic development achievements, and showed their support for the country's efforts to respond to climate change, intensify economic reform, and boost the development of the private sector.
They vowed to co-operate with Việt Nam in socio-culture and child care, while appreciating and backing the country's commitments to environmental protection.
Việt Nam would maintain its active and responsible contributions to the UN's work in peace, development and human rights, the Government leader said.
He spoke highly of the support afforded by UN agencies, which he said had brought practical benefits to Việt Nam.
He suggested both sides maintain co-ordination to successfully carry out the SDGs, global commitments and agreements to address challenges such as climate change adaptation and protection and sustainable use of water resources in the Mekong River basin.
He asked UNICEF help Việt Nam create laws and policies to protect children; the WHO to build a modern health system, and the ILO to ensure social equality. — VNS