Vietnam sets target for trade with Romania at over $500 mln
|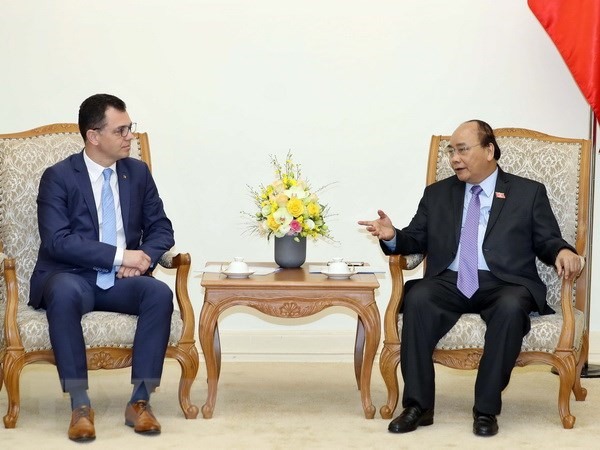 | | Prime Minister Nguyễn Xuân Phúc (r) receives Romanian Minister for Business Environment, Commerce and Entrepreneurship Stefan Radu Oprea in Hà Nội on Tuesday.— VNA/VNS Photo Thống Nhất |
HÀ NỘI — Prime Minister Nguyễn Xuân Phúc received Romanian Minister for Business Environment, Commerce and Entrepreneurship Stefan Radu Oprea in Hà Nội on Tuesday.
Oprea said that he and Việt Nam's Ministry of Industry and Trade shared the view that bilateral trade and economic ties boasted huge potential, and had agreed to lift total trade revenue from US$200 million to $500 million.
The Romanian delegation has worked with relevant Vietnamese agencies to enhance co-operation in agriculture, information technology, Industry 4.0 technology, tourism and investment, as well as between small- and medium-sized enterprises of the two countries.
The minister said Romania wanted to intensify links with Việt Nam, such as developing expressway infrastructure, research infrastructure and hospitals.
His country also wanted to boost labour collaboration with the Southeast Asian nation and hoped to receive more Vietnamese workers, he added.
He noted that Romania would hold the presidency of the European Union (EU) Council in the first half of 2019 – a good chance to promote Việt Nam's co-operation with the EU and Romania, including the signing of the EU-Vietnam Free Trade Agreement (EVFTA).
At the meeting, Phúc applauded the two countries' co-operation in recent years, stressing that Việt Nam had or would sign 16 new-generation free trade agreements, opening up big opportunities for links between Vietnamese and Romanian businesses.
Valuing Romania's strengths in manufacturing, he said Việt Nam had a population of about 100 million, and as such was a great potential market for Romanian firms in all fields, from seaports and tourism, to oil and gas and infrastructure.
The PM shared his guest's view that bilateral trade remained modest, adding that he hoped the two sides would raise their trade to more than $500 million.
He also asked the Việt Nam-Romania Intergovernmental Committee to devise concrete measures to strengthen bilateral relations in all aspects, including removing barriers in terms of tax and investment procedures, and organising business forums to promote partnerships between their businesses.
Việt Nam had a diverse range of agricultural products, Phúc said, calling on Romania to bolster ties to help these products enter its market.
The Government leader also voiced his delight at Romania's holding of the EU Council presidency in the first half of next year. He expressed his hope that the EU would promote the signing of the EVFTA and the Investment Protection Agreement towards enhancing co-operation. — VNS