Voters share concern over ethnic minority affairs
|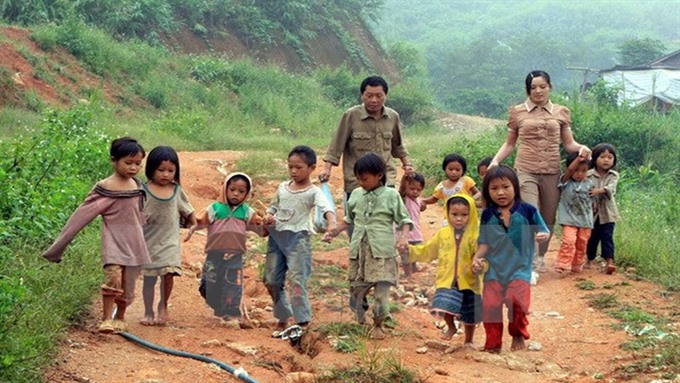 | | Expressing their opinions on the on-going National Assembly sitting's discussions, voters across the country show their concern over public investment and resources for economic development in the areas with high concentration of ethnic minorities. — VNA/VNS Photo Nguyễn Thủy |
HÀ NỘI — The NA sessions broadcast live on Friday morning received feedback from voters nationwide who shared their delight at the nation's socio-economic development but called for increased attention from the State to socio-economic development in areas home to ethnic minority people and mountainous areas.
Nguyễn Thuận Quảng from Hà Nội's Cầu Giấy District said he was pleased at the country's socio-economic achievements over the past several years, which have helped raise Việt Nam's position and prestige in the international arena.
"In the first three years of the economic restructuring following the plan for 2016-20, Việt Nam has witnessed steady macroeconomic growth. Additionally, the Party and State's foreign policy and the stability of national security and politics have created a sound investment environment for domestic and foreign investors," Quảng said.
However, he suggested that adequate attention should be paid to administrative procedure reform in the last two years of the five-year plan.
"The fourth industrial revolution requires proper administrative procedures; without them Việt Nam will not catch up with the world," Quảng said.
"Sound administrative procedures would help address two big issues: to increase foreign investment attraction and build trust as well as openness from the public, which will help with the country's continued macroeconomic stability and economic growth."
Another voter from Cầu Giấy District, Nguyễn Duy Tiến, said that despite the thorough direction and involvement from the whole political system, loose management by lower-level authorities still led to wrongdoings that needed to be fully dealt with.
Speaking about NA deputies' opinions in discussions, voter Nguyễn Văn Ánh from TuyênQuangProvince said the NA deputies have talked frankly about issues and aspects of the national socio-economic development.
"They have also put forward recommendations and solutions to further improve the efficiency of the implementation of decrees and plans for socio-economic development in the time to come," Ánh said.
"Discussions stay focused on issues directly related to the people's life, which demonstrates the responsibility towards the people of NA deputies."
A voter from the Central Highlands province of Lâm Đồng said discussions during the on-going NA meeting provided a concise assessment of the achievements in socio-economic development while highlighting existing weaknesses that needed to be solved, including public investment and resources for economic development in the areas with high concentration of ethnic minorities and agricultural development, Vietnam News Agency reported.
Nguyễn Đức Hiền from TuyênQuangProvince said the Government should pay more attention to mountainous areas, especially facilities to better serve the ethnic minority people's daily life such as housing, safe water, traffic routes and vocational training to narrow the socio-economic gap between the uplands and lowlands.
For the first time, the Government presented a separate report on the three-year implementation of policies facilitating the socio-economic development in the areas home to ethnic minorities and mountainous areas.
Deputy head of LâmĐồngProvince's Office on Ethnic Minority Issues, Bon Yo Soan, said that breakthroughs in these areas required investment resources to be in line with the policies. He added that investment should be properly allocated.
"It's necessary to have specific policies and plans for economic development in areas with high concentration of ethnic minorities, including the development of high-tech agricultural areas and industrial crop areas in line with the particular circumstances of each locality."
Voter Phạm Ngọc Tuân, a lecturer from Đà Lạt University's Agriculture-Forestry Faculty, said economic development, especially the agricultural economy in the areas of ethnic minorities, needed due attention from the State.
"For instance, the development of high-tech agricultural production models in LâmĐồngProvince's Đà LạtCity requires post-harvest support policies and the cultivation of vegetable and flowers should be developed in parallel with agriculture-based tourism," said Tuân.
"With that, local people will enjoy stable income from their own farms and have better trust in the State policies." — VNS